I'm an Adobe Captivate user so when Articulate Storyline came out and I heard all the buzz on Twitter I decided to give it a try (Free 30 day trial). Right off the bat… the sign up process for trying out their product is simple, it takes literally 30 seconds. I downloaded it, installed it on my machine and a few days later started to use it.
When you launch Storyline, the first screen you see is similar to the opening screen in Captivate. The are the project options on the left side (i.e. Create New Project, Record Screen, Import options and Recent Projects) and How to's and Free downloads on the right.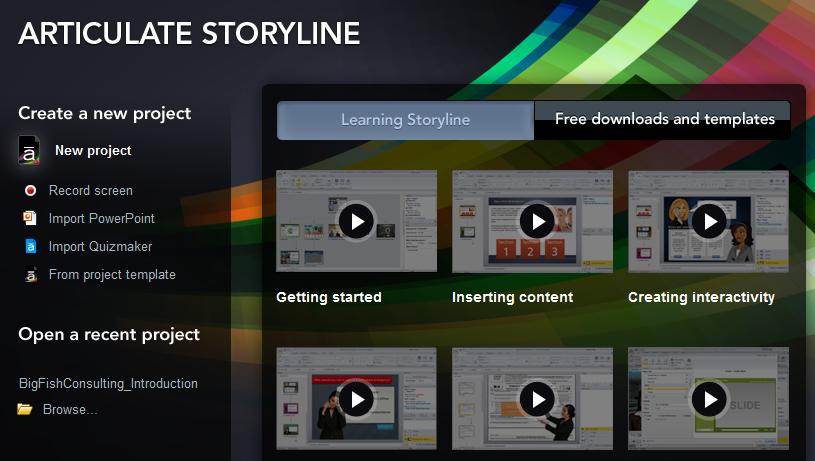 I viewed  the Getting started guide and then dove right in by Importing a PowerPoint template. The process was simple, just as it should be.
The GUI is friendly and inviting. Anyone that has used PowerPoint, which I'm sure is about 99% of people that will be using this software, will notice the ribbon menus in Storyline are the same as PowerPoint.

The Story View view is the first screen you see. Here you can change your navigation by dragging the screens around, creating New Scenes (modules) adding slides, etc.

I started building a course creating a slide by clicking on the New Slide button. When you do that, you have different options for the slides. You have templates, Basic Layouts, Quizzing, Screen Recordings and Import.
The Templates selection is pretty cool, it has different slides options with characters and scenes ready to be filled in when inserted into the project. If you need a quick slide with an illustration character, this is a pretty awesome option… for those of us that had to build slides like this in the past, the time it takes to  finding the resources to create one slides like this is substantial. The fact that the Articulate team added this feature, speaks to their Rapid eLearning motto.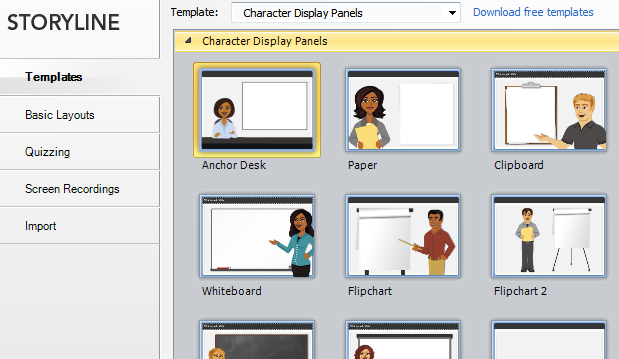 One thing I absolutely love about Storyline is the illustration characters.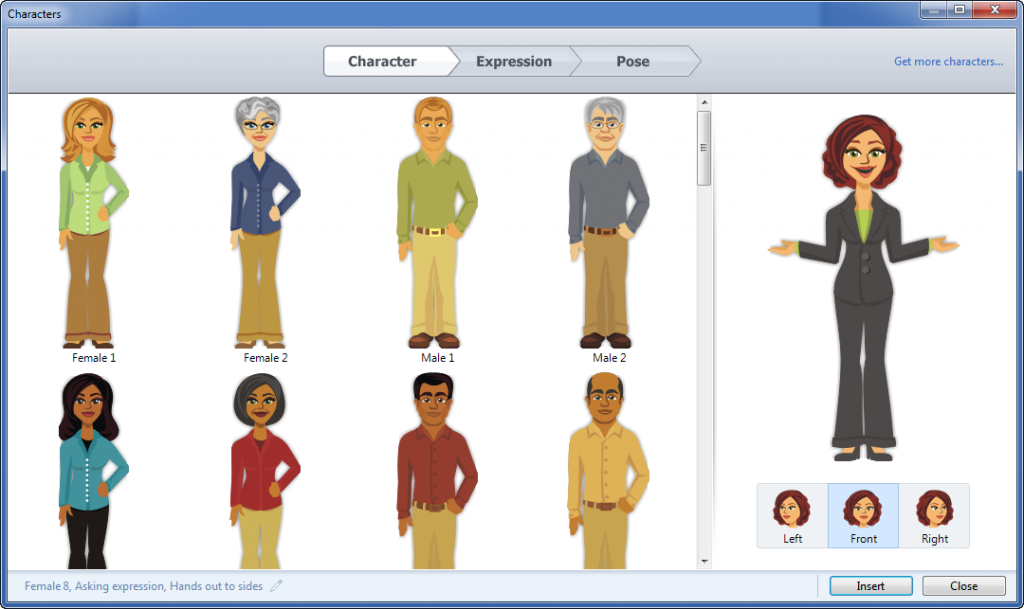 I was a bit disappointed with  the fact they offer one photographic character set (female set), but if you want more you have to buy more packages (Free if you are a Studio 09 customer and you buy Storyline).  Not a big deal, but I was hopping they would include more photograph characters, at least both a male and female set.

I'm still in the process of creating this course, so I still need some time to get more involved with the software. I will post up more thoughts as I dive more into Storyline, but thus far it has been a really positive experience… great work by the folks at Articulate!
Ricardo