About 4 years ago I got into photography because of my car hobby. I had friends that took pictures of their cars with these dSLR cameras and I loved the look of these pictures. So, I purchased a used Canon XTi and the rest is history as they said. Over the years I purchased some lenses and I also replaced my camera body with something more modern.
So, here is my photo gear:
From left to right:
Canon 60D with BG-E9 Battery Grip, Canon 70-200 F4L lens, Canon 28-135 IS lens, Sigma 10-20 UW lens, Canon 50 F1.8 and Sigma 530 Super DG flash.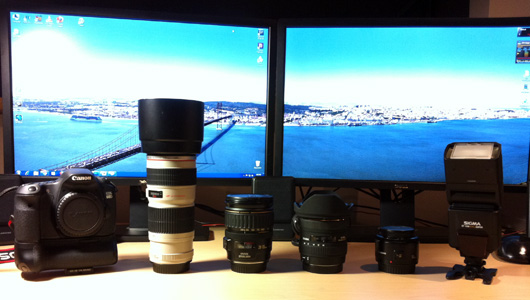 Missing from the picture is probably the camera I use the most. The same camera that took the picture above, my iPhone 4.
I also have 2 bags to carry my gear, the LowePro Computrekker AW (huge bag that carriers everything including laptop and tripod), and the smaller Crumpler 6 million dollar home (carries the body and a couple of lenses). And finally a Vanguard Alta Series tripod.
Using photos for eLearning courses gives you that personal touch. I have done it in a couple of occasions and it worked out great. Let me know what you think by leaving me a comment.